Did you know that it is not easy to delete thousands of messages on gmail, moving from one page to another?
Do you want to delete all unread messages on your google mail account in less than 5 seconds?
In this little tutorial you will find out how to empty your gmail mailbox of all advertising messages and benefit from a box gmail without unread messages !
Let's go!
Free Gmail from unread messages
How to delete unread messages on Gmail.
To start, click on the inverted triangle to display the "search options" sure gmail.

Select "unread messages"next to search then type the key"ENTER".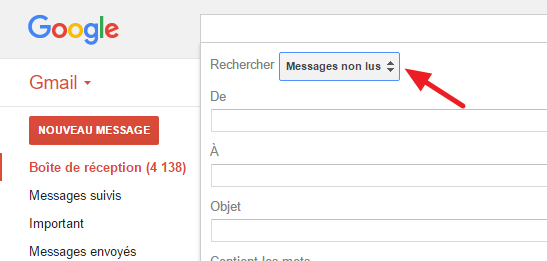 You will notice in the search box an English sentence, you can type it directly if you want to save time next time: is: unread
Then select "All" the messages, but that's not all!
This selection will only contain the messages displayed in the first page!

To select all the unread messages in your inbox, including those hidden in other pages, click on the phrase "Select all those that match this search".
Then click on the "basket"to remove them!

There you go !
You have now freed your Google Mail (gmail) account by deleting unread messages!
If you have any questions, please do not hesitate to leave your comments.